We know that having your own business is the biggest personal development journey that you could go on. If you want to accelerate that personal development and ongoing development growth this is your program.
What would 6 months working with Sharon Stanford look like?
✔ A new type of experience in emotional-heart-soul-alignment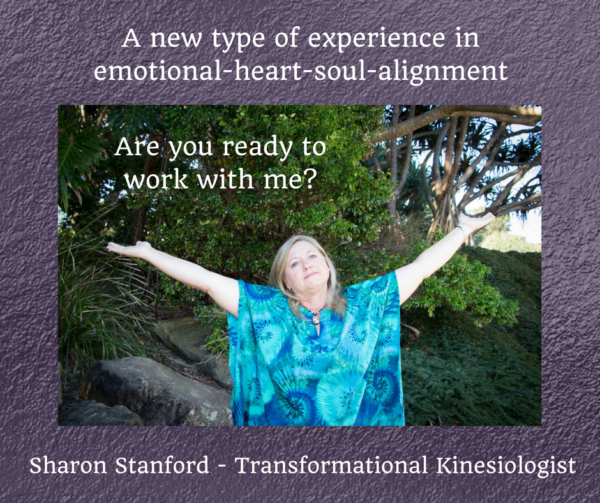 through fortnightly (and sometimes more frequent contact if required).
✔ We have lifted you out of the day to day symptoms of life and into the actual causes and themes of what is happening.
✔ We have cast a personal astrological chart and looked at where karma is paying out in your life and ways of resolution.
✔ We have looked at your family, partner, friend and business relationships, tracking patterns and establishing new ones where the old is not healthy.
✔ We have examined mindset around all the major areas of life and made constructive adjustments.
✔ We have fostered emotional wellness so that you are operating in your zome of genius and know techniques for getting back to this place when you "wobble".
✔ Our continued sessions have produced lasting change through deep-seated mindset development, emotional enrichment and heart-elevation. You are seeing the difference in how you respond to the world around you.
✔ We are working in the world of causes rather than the symptoms the results of these sessions are empowering and uplifting.
Because of my training and intuition, I am able to look beyond to day to day problems and into the cause of what is occurring.
"Sharon delivers! Loved my work with her so much. She is great at getting to the nitty gritty and knows her stuff. Even if you don't know what you need, this would be well worth it, you'll work it out in session! xxx" Mc Emma
How have we done this:
Fortnightly sessions and when needed, weekly contact, using a mixture of kinesiology, intuitive business consultations, astrology, meditation, spiritual guidance, practical techniques and personal development mentoring.
"Thank you, Sharon, for adding extra clarity to the clarity and awareness I already have about myself and my business" Sarah Merry
Mastery of Being is specially designed to bring you and keep you in your "Zone of Genius".
What you receive:

💞 lifetime access to all my programs and meditations as they are created
💞 astrology chart to map out your soul path for this life
💞 fortnightly 60 minutes 1:1 calls plus extra calls as required
which can include:

💝 kinesiology based treatments

💝 conscious living mentoring

💝 intuitive business consultations

💝 relationship counselling

💝 mindset development

💝 sabotage clearing

💝 kinesiology based treatments

💝 spiritual nourishment
Without a package, this is over $2000 in value.
As a 6 month package, this is valued at $1,500
or monthly instalments of $297/month.
The first step is to book a trial session for $90
Click here for a trial $90 session
Click here if you would like a free 15 minute chat about the program